The Digital Assistant Duel: Personal Technology Serving Us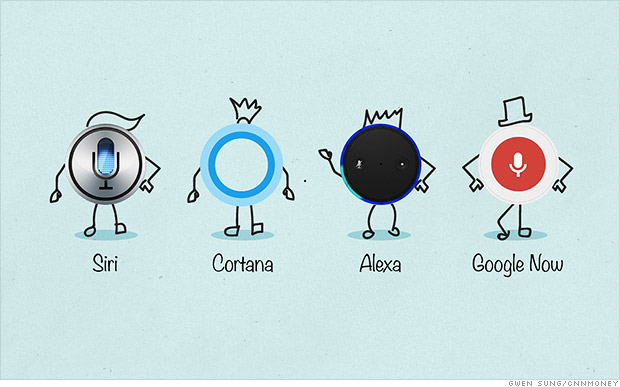 With the upcoming release of iOS 9, Apple will be releasing a more proactive personal assistant comparable to Google Now, who currently leads the race. However, Microsoft has Cortana and Amazon features Alexa for their Echo speaker.
The next frontier of technology is predicting what you want rather than answering your questions.  Our smart phone or wearable technology will anticipate our needs rather than respond to our requests.
First introduced in 2012, Google Now is the most proactive in regards to assisting the user. It scans the internet including Google services, browsing history and Google search. For example, Google services include YouTube, Gmail, Calendar, and maps. All of which give Google Now a glimpse of the users' routines and habits allowing Google Now to make suggestions for the user. That may consist of a suggestion to leave 10 minutes earlier because of a bad accident disrupting traffic in the usual work route.
Siri has been featured as Apple's personal assistant, however, with the release of iOS 9 the personal assistant will be much more proactive in hopes of better assisting the user. Apple says that they will protect people's privacy as much as possible. And will avoid intruding too much into their personal lives. Although when it comes to choosing whether that be a personal assistant or privacy – people may be more likely to select the assistant as opposed to privacy.
I personally use a Samsung Android S5 and am deep into Google Apps.  I find it fascinating that between 5 and 6 PM, Google Now gives me the map, traffic, and time estimate to get home from work.  Why?  Because I've defined both home and work to Google.  Then, Google Now is predicting my upcoming behavior.  I personally am grateful for technology serving me in this way.  I certainly understand that others are paranoid and concerned.
In a CNN money article, Heather Kelly "interviewed" all 4 of the digital personal assistants. Questions like 'Where do you see yourself in 5 years?', 'What is your greatest weakness?', and 'What is your greatest strength?'  For example,  she highlighted that Siri best understands language, Cortana is great at location-based reminders, Alexa works really well within the Echo Speakers and Google Now can take credit for knowing the user best. Using the typical interview questions, she offers insights into how each device functions best. She also selects what digital personal assistant she would hire. Curious? Check out the article here.
i3's bottom-line: as technology marches on – discover what works best for you and utilize the technology to its fullest potential.
  Mike Ritsema  President 
---
Get in touch with i3 Business Solutions today
At i3 Business Solutions, we use the
best technology
to partner with
local businesses
to transform IT departments and improve business productivity.
Contact us here
or fill out the form below:
Published with permission from TechAdvisory.org.
Source.